How to brew tea
Green tea is a delicate beverage, with the taste changing depending on how it is brewed. While there are ways of brewing to ensure the "most delicious" flavour, it is essentially a drink that comes down to individual tastes. Finding one's own preferred way of brewing it could be said to be one part of the enjoyment. As with all things, it starts from the basics. Using sencha, which most people can drink almost any time, the "Tea Professionals" Hamada's Chashi (Tea masters) will initiate you into how to brew 3 types of tea.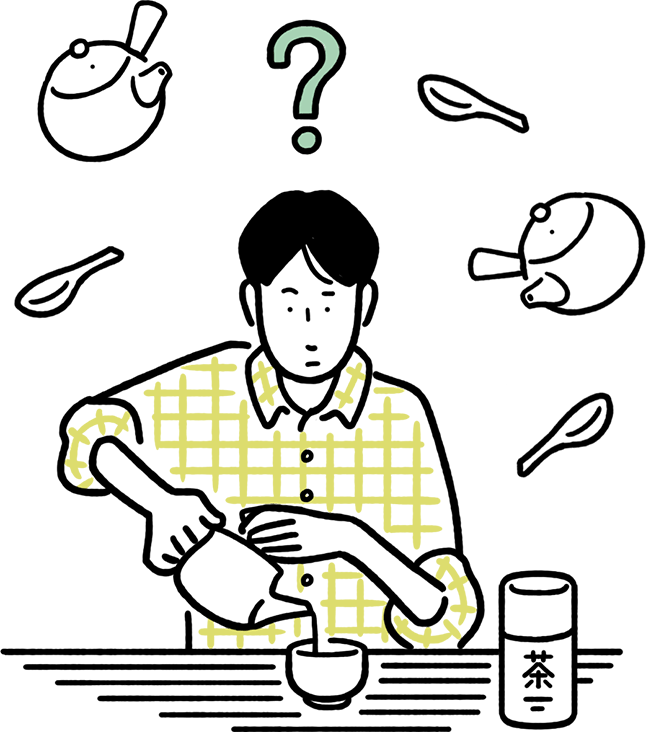 First, master this
The basic brewing method
The key point for the first round of tea is to pour hot water after letting it cool a little bit. For the next round, the tea leaves have opened up enough, so add the water to the teapot while still hot, then wait for roughly 10 seconds before pouring the tea. You should enjoy the variation in taste between each round of tea. With a little effort, you can enjoy it until the second or even third round.
Pour boiled hot water into cups for each people, with the water cooled enough so that the cups do not feel hot when held.

Add tea leaves to the teapot. In the case of sencha, two cups' worth equates to one heaped teaspoon.

Pour the water from step (1) into the teapot, and allow it to brew for about 1 minute.

Pour the tea into the cup. Instead of pouring a full cup, you should add only a small amount to each cup in turn, called "mawashi sosogi" in Japanese, allowing you to make sure the amount and concentration of the tea is consistent. In order to capture every drop, be sure to snap your wrist at the end to get it all out.
For parties and hot days
How to brew
"Cold brew tea"
Cold brewing extracts a mellow taste, producing tea with very little bitterness. Delicious cold tea can be enjoyed by doing little more than placing it in the refrigerator. The same leaves can be used for up to 3 brews. Drink the tea on the day it is prepared.
Prepare a filter-cap bottle, or a cold-brew bottle, and put in the tea leaves and water. The ratio should be 1 heaped teaspoon for 750ml of water. Feel free to adjust the concentration to your liking.

Place the bottle in the fridge, and allow 1 to 2 hours for a full extraction.
For the ultimate tea
How to brew
"Ice brew tea"
A luxurious drink of the highest quality tea which can only be extracted little by little, giving a rich taste that is extracted as the ice melts.
Add ice to the teapot, and cover it with one heaped teaspoon of tea leaves.

Place a small amount of cold water on top of the leaves, and allow 2 to 3 minutes for extraction.